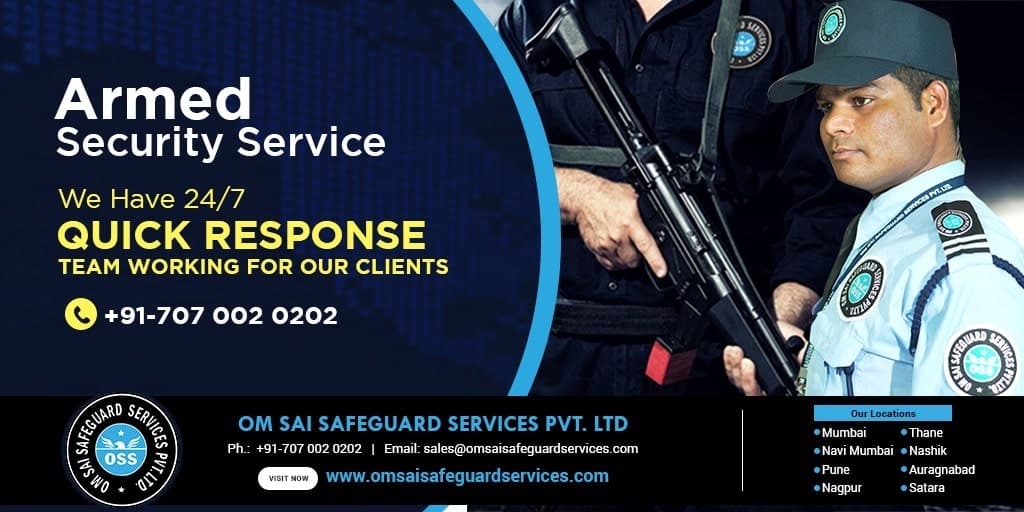 Security Services In Nashik
Om Sai Safeguard Services Agency works to provide effective and well-trained security services for all. And all sectors of the Security Agency in Nashik.
There are top-level Security Agencies in Nashik. But Om Sai Safeguard Services is also regarded as one of the top-level agencies.
The security agency's management practices are very different. Because security agencies, like other companies, work and provide different services.
There are many areas in Nashik that are developing areas. These include the industrial sector, the corporate sector, the commercial sector, and the bank sector.
These areas are experiencing huge growth. The corporation of Nashik State is working very hard.
Their concept is to make Nashik city a smart city. Nashik city is one of the largest suburbs of Maharashtra.
The idea of ​​a Security Agency in Nashik has started to grow exponentially. Because all the area here is evolving.
As it has begun to grow, the demands of security agencies are also increasing.
Because a lot of investors are investing in stocks of property and stocks for this property and goods.
It is a fact that this year there has been a lot of increase over the last year. And their rate has increased.
Top Security Services In Nashik
Om Sai Safeguard Services This agency provides your services in the best quality security events, commercial, corporate, industrial, malls, hotels, construction, and so on.
And the working system of this agency is very different and has many features.
In this agency, the Area Manager, Operations Manager in addition to Area Offices are working effectively in the Parsons Management System.
Because of this, Om Sai Safeguard Agency is making progress in its growth and systems.
Moreover, Google, Just Dial, Sulekha, Piping has the highest level. Om Sai Safeguard Services This agency provides all types of security guards.
For example, Armed, Unarmed, Security Officers, Bouncers, Personal Security, and Bodyguards, etc. provide top best and well-trained security guard services.
Likewise, the security system practices that recruit. That is, he had to undergo a physical and mantle test before hiring a security guard.
He is chosen to pass this test. Then there is the police verification without all the original documentation of that security guard.
And it is crucial to do the police verification. Because security guards need to put in security, this management is done by all our Security Agencies in Nashik.
Om Sai Safeguard Services provides the best security personnel and best guarding service in the entire state of Maharashtra.
In the city of Nashik, such a large number of top-level security agencies provide their security guards. Still, Om Sai Safeguard Services has been working in Nashik for many years to provide the best security guards.
Best Security Guard Services
Om Sai Safeguard Services is an agency GST register and is also a Registrar for License, PF, ESI. Likewise, the agency completes all the documents.
And all the documents are lawful and this agency is trustworthy.
In many areas in Nashik, Om Sai Safeguard Services is a company that provides security services to Ali Top Best Level.
Security services are also provided in Nashik and throughout the state of Maharashtra.
In addition, we provide the best security services in all areas, such as Ruler and Urban or Zone One, Zone Two and Zone Three.
And in addition, the zone is rated. This is how the operating system of Om Sai Safeguard Services runs smoothly.
The demand for the "Security Services in Nashik", the security agency, has greatly increased the compatibility of security agencies.
But Om Sai Safeguard Services Private Limited believes in quality, not agency content. And the goal is to provide the best service possible in Thane Navi Mumbai.
Security Agency In Nashik